I hope Julia Roberts has this picture hanging on her wall. It's such a joyful, "everything is going to be ok" moment captured by Alexi Lubomirski. Just looking at the image makes me happy. There's a warm connection between Roberts and Lubomirski, but it's Elizabeth Stewart's styling that I love this picture for.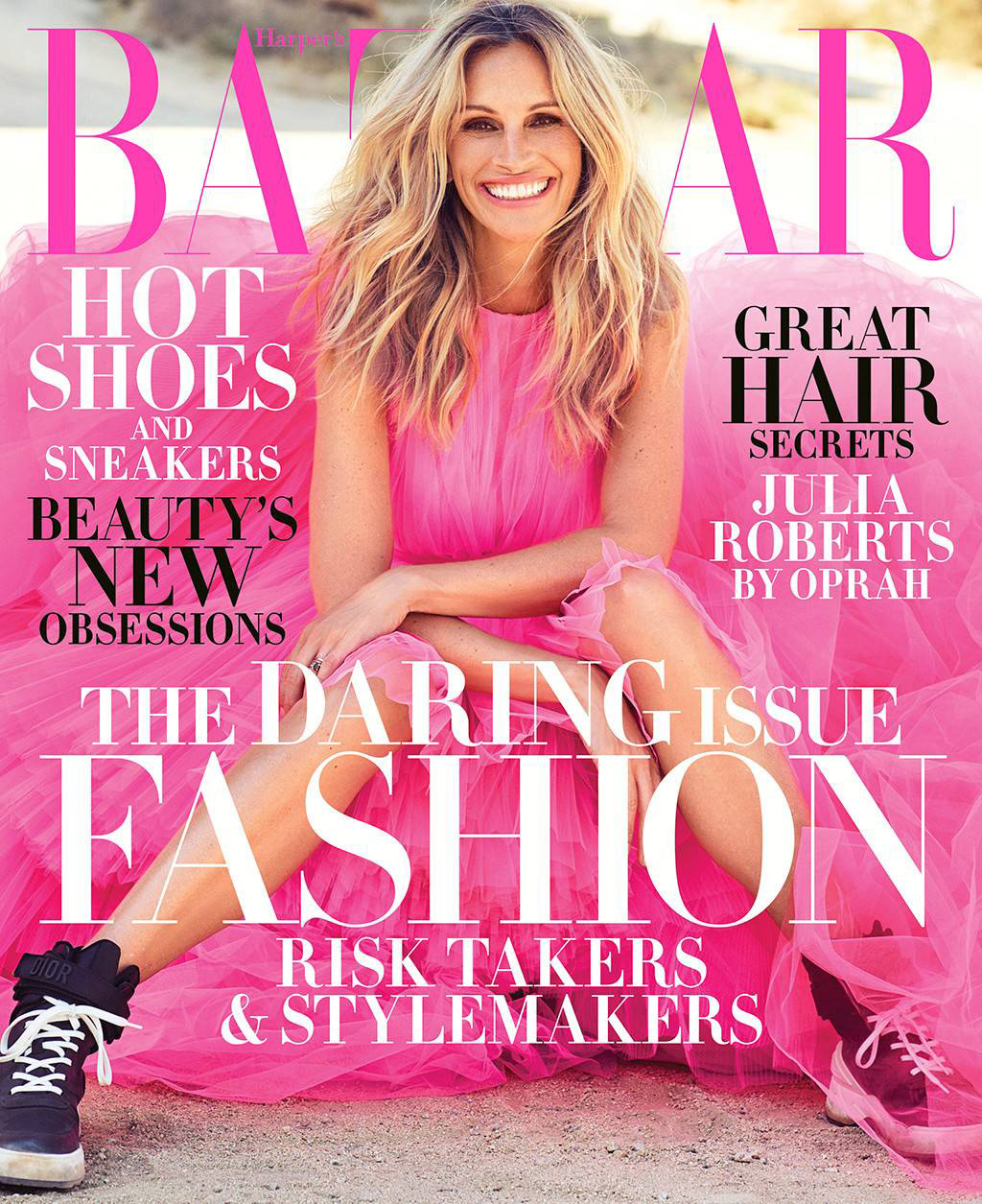 Why I Love This Picture
Known for beautiful pictures of A-list celebrities and royalty, Lubomirski is the go to photographer for Gwyneth Paltrow, Jennifer Lopez, Nicole Kidman and Jennifer Aniston. His images aren't particularly challenging or edgy but they always show the subject in their best possible light. They are always upbeat and always beautiful.
The picture shows good composition, gorgeous lighting, a model who looks engaged and genuinely happy, but it's the styling that makes it. The Giambattista Valli dress is completely over the top. It's huge. There must be acres of tulle in the skirt. It's the sort of everyday extravagant fashion we loved Carrie Bradshaw for. And it's pink. Not neon, but a strong pink that hits hard. I tend to fall for black and white pictures but this image is all about colour.
The Dior trainers are perfect. While all the pieces matter, it's her shoes that tie the image together. Roberts is loving being in them and it's believable. The Dior trainers and Giambattista Valli dress are an inspired combination. They lighten everything, making the picture fun and providing its narrative. Looking at a fashion image we see both the frame and the scene that came before. Roberts' trainers still have dirt on them. She really has been running around in the desert. It's a lovely detail, showing photographer, stylist and retoucher all working together. Her laces have been tied in neat bows. Should they have been left undone? That might have made Roberts look carefree and added a little swagger but it wouldn't have convinced us that she'd really been running about in them.
I would have preferred lighter eye makeup. She's smiling, closing her eyes up and making it difficult to pick out the detail in them. This would have been a good portrait to do with no, or minimal makeup. The soft, reflected light is flattering as is, and I suspect the makeup was put together with bright sunlight in mind.
Roberts is a serious actress. Of the generation before social media, she's no Anna Kendrick, you'd not find her goofing around on Instagram. My perception of her is in complete contrast to the cover image. This is a Jennifer Aniston picture, not a Julia Roberts one, and I love it for that.
Another image from the shoot is of Roberts hanging from a cliff (the sort of ridiculous challenge Tyra Banks would have models do on ANTM). I suspect she wasn't actually far from the ground, but it is an elaborate setup nonetheless. There's nothing wrong with that picture, it's fun to see Roberts in that situation, and credit to her for doing it, but it doesn't have the punch that the simpler portrait does. I used to love the extravagant setups that fashion magazines would put together. The crazier the better. The more I've seen, the more I appreciate the simplest pictures. The cliff photograph is more about the scene than Roberts. It doesn't have either the connection or sense of fun that the portrait does.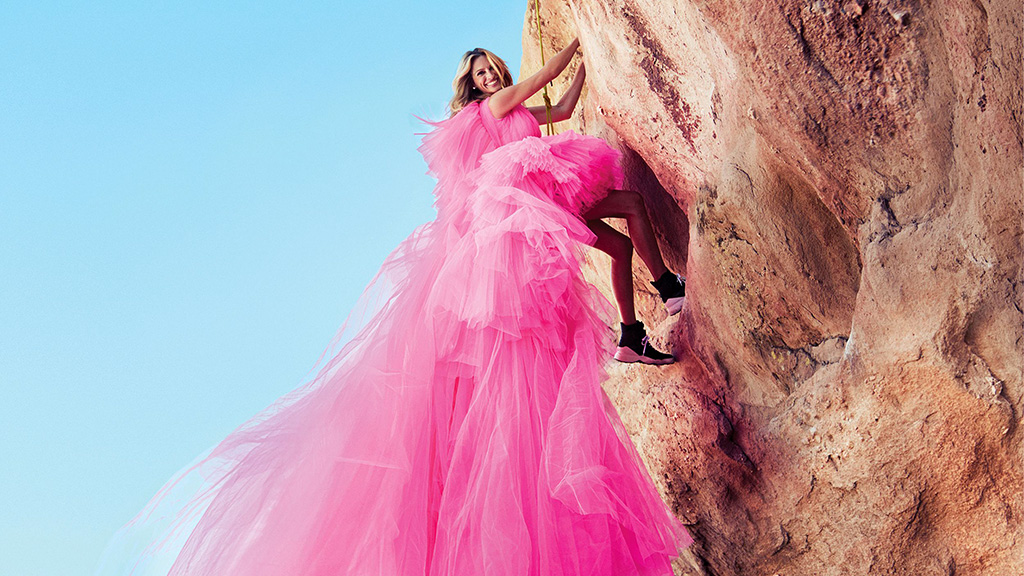 What order were the pictures were taken in? I suspect the portrait came at the end of the day. Roberts is relaxed, maybe because she's gotten all the difficult shots done. Charged but relieved, both Lubomirski and Roberts are relaxed now. They know they've got good pictures in the bag and anything else is a bonus. You can see the spark between them. It might be the stress of doing the cliff shot is what led to this portrait. It could also be that Roberts is just that good of an actress.
There's an easy familiarity between Roberts and Lubomirski. Portrait photographers like Avedon and Rankin have, on occasion, deliberately chosen to make their subjects uncomfortable. It's an effective technique, Rankin's pictures often have an edge to them. You see the rumbling confrontation between subject and photographer. His portraits of Heidi Klum are amazing, partly because she takes his attitude and gives twice as much back. You wouldn't get the Roberts portrait with that approach. Lubomirski is a good guy, it comes across in the photograph.
This picture is complete, everything fits together. The lighting, pose and the connection between Roberts and Lubomirski alone make it a great image, but the styling sets it apart. I have a soft spot for many actresses' fashion pictures (hello Emma Watson, Carey Mulligan and Keira Knightley), though Roberts isn't one of them. But she looks so cool. It's impossible not to love her in this picture. Lubomirski has given her a soft, playful edge. This is not the Roberts we think we know, it's the one we'd love to know.
*Photography Nerd Notes
This picture was shot digitally, likely on a 35mm SLR. I don't think any artificial lighting was involved. There may have been some large reflectors, though Lubomirski could have relied on the surrounding sand to do that for him. The picture was taken on a bright day in the shade. Sometimes photographers use a large canopy to create shade (often called a scrim) - which has the advantage of allowing some light though.
The retouching in this picture is excellent. There's a recent trend to overly smooth skin. The Jennifer Lawrence "Joy" and Kristien Stewart "Gabriele" perfume adverts are both particularly egregious examples. They don't look perfect, they look weird, like some kind of Instagram filter gone wrong. The Roberts cover picture is an example of how a skin retouch should be done. It's heavily edited, there're no imperfections but Roberts skin texture and freckles remain. It still looks real.